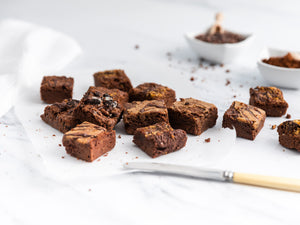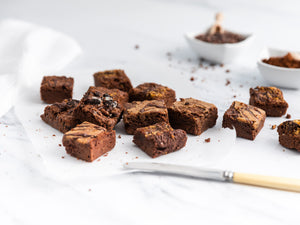 All our bakes are handmade by our own team of bakers and have a best before of;
Classic & GF Brownies 21 days
Vegan Brownies 7 days (store in the fridge)
Marshmallows 21 days
Biscuits 1-2 months
Baking Kits & Jars 6 months

From receipt, depending on which bakes you select and which delivery method you choose.
ALLERGY & Dietary requirements
All our bakes are suitable for vegetarians and a selection of them are suitable for vegans, including our new vegan marshmallow collection.
Please note; our classic and gluten free Marshmallows are NOT SUITABLE for vegetarians. Please opt for our Vegan marshmallow range for those following a vegetarian diet.
We have a diverse range of sweet treats and can cater for people with gluten intolerances, dairy intolerances, vegetarians and those following a vegan diet.
As a business we have measures in place to minimise risk of cross contamination with regards to our gluten free products. Our gluten free bakes are produced on a seperate schedule to our classic range and our kitchen undergoes a full clean down to minimise risk, and our gluten free products are also stored separately to all our other products.
Whilst we take every precaution, we cannot guarantee our products are free from traces of gluten. If you'd like to know anymore about our gluten free bakes, please don't hesitate to get in touch and we'll be happy to discuss them with you.
All of our products may contain traces of nuts.
Please be aware our products are made in an environment that handles nuts, therefore we cannot guarantee our products DO NOT contain traces of nuts. If you require any more information on how we handle our products, please get in touch and we will be happy to assist you.
Yes of course, we love how organised our customers are! At the cart you will find a delivery date calendar, just choose your selected delivery date. 
Please note; If your order contains vegan bakes we will not send your order out on a Friday, but will hold it till the Monday (unless you have chosen a Saturday delivery date at checkout) to ensure maximum freshness for the recipient. 
Once you have added your chosen gift to the shopping the cart and clicked through to the cart page you will find a gift message box. Here you can input your personalised message.
At this stage you will also see an order note section, where you can add any specific note or requests for the Sweet Reason team.
Upon receipt of your order, you will receive an email confirmation from us. Your email might be delayed or hidden in your spam folder, so please check your spam folder.
If your email still hasn't arrived after an hour, please send us an email at hello@thesweetreasoncompany.co.uk and we'll promptly get back to you.
As many of our orders are bought as gifts, no price details are included with your gift order. The confirmation email you receive on purchase acts as your receipt.
If you need to amend the delivery address to your order or wish to make any other changes to it, please contact us here with your order number at least 24 hours before your delivery is due to be sent and we will update this for you. 
On the rare occasion you may need to cancel your order, please contact us here with your order number at least 24 hours before your delivery is due to be sent and we will do this for you.  A credit will automatically be applied to your credit card or original method of payment, within a certain amount of days. 
Please note; An order cannot be cancelled, and is no longer eligible for a refund, once your order has been dispatched.
Yes we can. Nothing is impossible and we have a huge range of ideas to help you create your perfect, unique and impactful gift.
If you're looking for something specific, pop your thoughts and details here and we'll reply ASAP. We're here to help.
Yes. All of our off-the-shelf products can be purchased in bulk with your brand logo added to the packaging.
Yes. We will work with you to create the perfect corporate gifting solution for your business needs and within your budget. From merchandise for events to letterbox gift boxes for employees working from home, we can create the perfect, branded gifts.
We make it super simple to order for hundreds or thousands of individual recipients at one time. We offer easy, single-payment invoicing for orders of all sizes. Whether you select an off-the-shelf letterbox-friendly parcel or a bespoke luxury hamper, you can guarantee a seamless order process when you order through us.
We offer International Tracked Delivery, which is sent via the Royal Mail. Through this service we can deliver to almost any location worldwide. 
International delivery comes with a whole new set of obstacles, but you don't need to worry. The Sweet Reason customer service team have been sending parcels across the globe for many years and can guide you every step of the way. For overseas deliveries, we complete all of the forms required by customs so that you don't have to. We also have expert knowledge of which items will be accepted into which countries, allowing us to advise you on your product selections when you order.
Yes. You can choose whether to have your items delivered to one main office address, multiple business addresses or individual residential addresses. We make it easy to place one single order and delivery to as many addresses as you need us to.  
This service also allows you to easily send parcels to different clients worldwide. If you have offices in both the U.K. and overseas, we can deliver to a mixture of U.K. and international addresses in one order.
Each order will be hand packaged into one of our luxury gift boxes, designed to ensure your order is perfectly presented and arrives in pristine condition. Inside the gift box, the gift items will be cushioned by shredded tissue paper. All our bakes are individually wrapped in food safe cellophane to keep them fresh. Finally your gift box is placed into a padded jiffy bag for safe transit.
A gift wrap service is not required with our products. Our gift boxes are designed for both functionality and as gift packaging. With a selection of designs, there's a gift box for every occasion.
As a business we have taken steps to reduce our impact on the environment. One of these steps has been developing our packaging. We use a variety of sustainable packaging materials, including recycled papers and cardboards, FSC aligned papers and cardboards, and biodegradable and compostable materials. We also focus on reducing waste by using the appropriate sized packaging for each product.
We are continuing to find solutions for the parts of our packaging that aren't currently recyclable and recognise there is always room for improvement and development. Our packaging is currently 95% sustainable.
In the header, please head to the person silhouette ico. This will take you to a new page where you will be able to sign up for an account and/or manage your existing account. Alternatively you can click here.
Yes! We would like to welcome you to our sweet treat family. Sign up to our newsletter for exclusive offers and to be the first to hear about our new product launches. 
You can find our exclusive newsletter sign up form at the bottom of our homepage and in the cart.
We accept the following payment methods;
Amex, Discover, Maestro, Mastercard, Visa, Shop Pay, Apple Pay, Google Pay, Paypal & Diners Club.
Our discount codes cannot be used in conjuction with any other discounts and offers. 
Our trusted delivery specialists are DPD and Royal Mail. Your parcel will be sent through one of these couriers dependant on the shipping method chosen at checkout.
Our delivery partners will send you an email and text (if you provided your number at checkout) to keep you up-to-date on your delivery status.
Please interact with the chat button in the bottom right of the screen, you can track your order here. Alternatively you can send us a chat message within the widget and will promptly check the status of your order.
We offer International Tracked Delivery, which is sent via the Royal Mail. Through this service we can deliver to almost any location worldwide. 
If you would like to know about alternative overseas delivery options please get in touch via email at hello@thesweetreasoncompany.co.uk and we will be happy to discuss your specific requirements.
Our delivery options and charges are listed below:
Standard (2-4 Days Mon-Sat RM48 Tracked) £3.95
Standard Express (1-3 Days Mon-Sat RM24 Tracked) £4.95
Next Day (DPD Mon-Fri) £7.50
Saturday Guaranteed (DPD) £15.95
Sunday Guaranteed (DPD) £15.95
International Tracked Delivery POA
Unfortunately due to the perishable nature of our products, for hygiene reasons we cannot accept returns. In the very rare instance you've encountered a problem with your order upon delivery, please contact us and we will endeavour to resolve any issues.
Unfortunately, due to the perishable nature of our products, we cannot offer any exchanges or credit notes.
Please get in touch with us as soon as your order arrives, either via our website chat function or by email on hello@thesweetreasoncompany.co.uk and we will be able to advise you further.